2019 Classes
March 15th and 16th - Little Row of Houses with Jenny Adin-Christie

This will be a 2 day course over a Friday and Saturday. It will be held in St Lawrence's Parish Hall, next to the Quaker Meeting House.

Inspired by the intricate raised embroidery scenes of the 17th century, which included many depictions of contemporary buildings, create a miniature scene of cottages beside the sea! The project is designed as a sampler and will teach a broad range of techniques suitable for creating stumpwork scenes, some stitches and threads closely resembling those seen in 17th century pieces, others adding a new element using lovely materials available today.
Cost of the kit will be £42.50.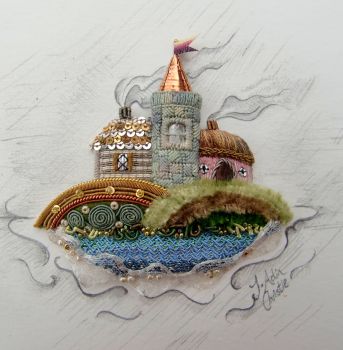 Jenny has not taught in Winchester since 2015 so her course is proving very popular. Please contact Embroidery Now to be added to an Interested Party list. 10 people will be drawn randomly from this list on February 14th and offered a place on the course. Further draws will take place if any of the initial 10 are unable to attend.
---
April 27th – Pot Pourri Bouquet with Lorna Bateman

This design is aimed at the beginner to ribbon embroidery, or someone who has perhaps tried some ribbon embroidery previously. The finished item measures 13x16 cm or 5"x 7" or as desired. It can be made up into a pot-pourri bag or framed as a charming small picture.

Cost of the kit will be £30.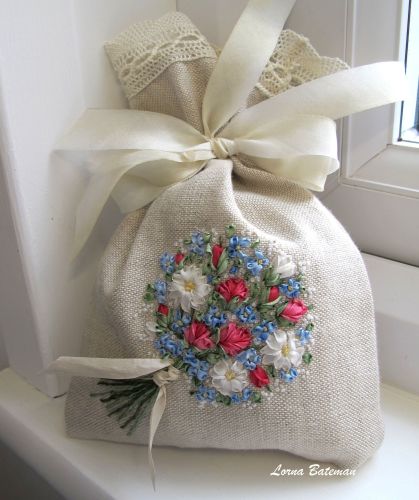 ---
May 18th - ?

Cost of the kit is £.
---
June 15th – Appliqué Leaf with Flo Collingwood

A striking design of a stylised leaf which can be made into a needlecase. The class will include basic Appliqué techniques of Padding, and appying fabric and felt over padding. It will also look at edging techniques and stitches including couching and surface stitching using a variety of threads. Flo will be bringing along copies of her new book on appliqué which will be published in February.

Cost of the kit will be £20.
---
July 2oth - ? with Nicola Jarvis

Cost of the kit will be £.

---
September 21st - ?

Cost of the kit will be £.

---
October 19th - Goldwork Nefertiti with Amy Burt

Inspired by the bust of Nefertiti in the Neues Museum in Berlin. The class is an introduction to Goldwork worked on linen using pearl purl, chipping in bright check, combination couching with rococco and twist, and cutwork with smooth purl. Students will also learn the basics of padding with felt.


Cost of the kit will be £25.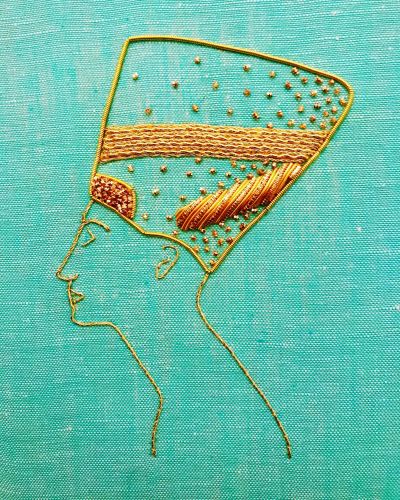 Go to SHOP
---