March 14 - Blackwork with Lisa Bilby
Have you watched "Wolf Hall" and seen ladies of the court and the Cromwell household embroidering in the background scenes? Allegedly introduced by Katherine of Aragon, Blackwork was a popular embroidery technique in the Tudor period and beautiful examples can be seen on sleeves and collars of Tudor portraits. Come and learn the basics of this striking technique which can be used so effectively for decorative clothing, or for replicating portraits or images of buildings. You will learn how to transfer a Blackwork design onto fabric and how to work both outline and filling stitches. This is an ideal starter technique and one design will be suitable for beginners. The others will allow experienced stitchers to develop their technique. Lisa teaches regularly at the Royal School of Needlework and has made a particular study of historical Blackwork techniques.
Material costs are not included in the course fees and the kits cost £15

---
April 18 – Whitework Buttons with Jenny Adin-Christie
The five small designs shown below are based on the forms and patterns antique buttons. Buttons are a fabulous source of inspiration for Whitework design with their miniature sculptured and fretted designs. Each of the five designs explores a different range of Whitework techniques taking you through the "Whitework tonal scale" from richly padded and sculptured forms through to delicate surface stitchery and finally to voided open areas creating a strong three-dimensional quality. You can select one of the buttons to work on in class but you may wish to purchase more to work on at home creating a set. The completed buttons look fabulous when framed individually or as a set in a box frame. They can also be adapted to be worn as a brooch if preferred.
This class is suitable for all levels of ability. Those with less experience can attempt the simpler designs, and larger designs will challenge those with greater experience.
NOTE: Students must be able to see white threads on a white ground.
Material costs are not included in the course fees and the kits cost from £15.00 to £24.00 for individual buttons or £99.00 for all five.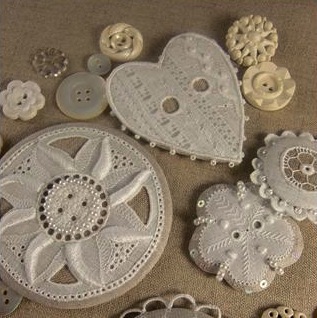 This class is Fully Booked - please email [email protected] to be added to a waiting list in case of cancellations.
---
May 16 - A Bayeux Tapestry Montage with Alex Lester-Makin
POSTPONED DUE TO TUTOR BEING UNAVAILABLE, NEW DATE IS 24th OCTOBER.

Alex is an expert in embroidery in the British Isles in the early medieval period AD 450 to1100 but she has also made an extensive study of the Bayeux Tapestry worked later in the 11th century with possible connections to Winchester. In this class you will benefit from her unique combination of talents as an historian and a qualified professional embroiderer.
The embroidery design consists of two peacocks found in the top border of scene 14, 'Negotiations between William and Harold'. They are worked at full size and incorporate the two main stitches used throughout the Bayeux Tapestry, couched work and stem stitch. The design is worked on linen using crewel work, both material and threads as closely aligned with those used on the original as possible.
Material costs are not included in the class fee. The cost of the kit is £31.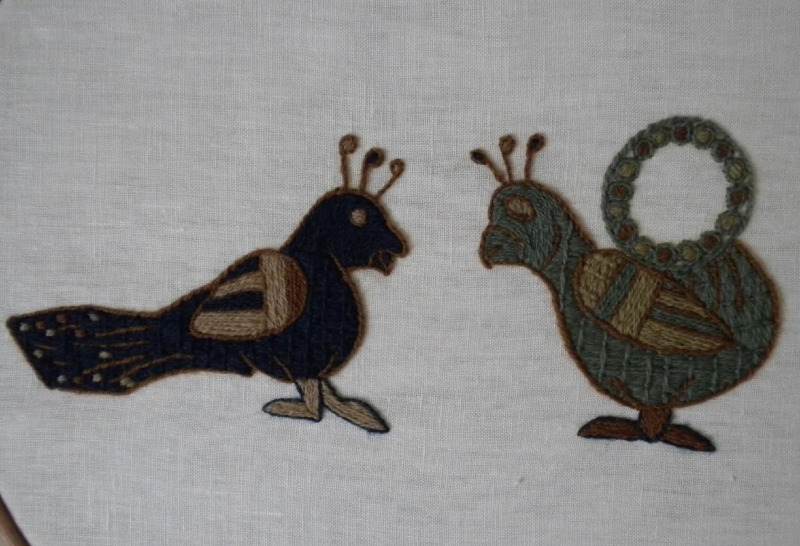 ---
June 20 and July 18 – Advancing skills in Goldwork – Shiny Seashells with Kate Cross

With its roots in religious and royal embroidery Goldwork has a luxurious and opulent quality. Contemporary designs using Goldwork in combination with other techniques have a wide application including fashion and interiors. This piece teaches all the fundamental Goldwork techniques along with advanced techniques. Techniques covered include the following: Couching in threads such as Japanese, rococo and twist, chipping, cutwork, purl-pearl, working with spangles and platework.
Some experience of Goldwork would be an advantage for this class. Material costs are not included in the class fees. A kit of materials for the two classes will be provided at a cost of £40.00.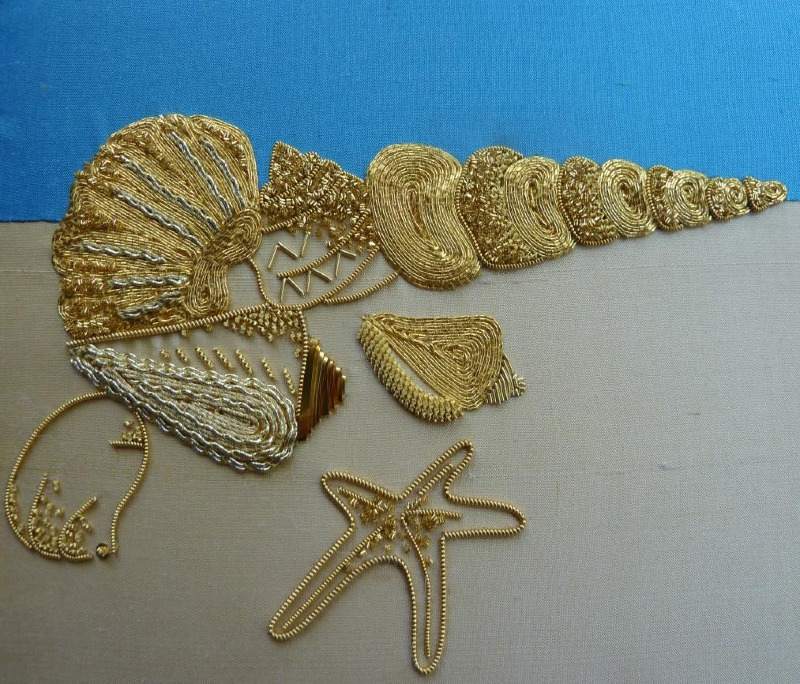 ---
September 19 - Mountmellick work with Flo Collingwood

This form of whitework embroidery comes from the village of Mountmellick in Leinster, Ireland. It was developed in the early 19th century as a way for local women to generate some income, and used threads and fabric that were commonly available.
The piece will include Satin and padded Satin stitch, Mountmellick stitch, knotted and edging stitches, Buttonhole, Coral, French Knots and Bullions - all very traditional Mountmellick stitches! The design will be typical of the motifs used at the time which took nature as their inspiration. There will also be extra fabric in the kit to give you the opportunity to practise if you want to feel more familiar with the stitches before starting the design.

The kit for this course will contain traditional Satin Jean fabric and different thicknesses of cotton thread, needles, the design and a book of Mountmellick designs by Jane Houston-Almqvist. The cost of the kit will be £26.00.

This class is Fully Booked - please email [email protected] to be added to a waiting list in case of cancellations.
---
October 17 - Shadow Work with Kate Barlow

POSTPONED , NEW DATE IS 28th NOVEMBER.
In Shadow Work embroidery the stitches are worked on the reverse side of a sheer fabric to give a shadowed effect when viewed from the right side. This appears to be a technique which goes back many centuries and may have originated in Iran, Iraq or India where it forms part of the Chikankari style.

The front of the fabric is worked with an outline stitch and the back of the work would be a closely worked stitch like herringbone which would show through the opaque fabric. Elements of shadow appliqué can be incorporated as well. The kit for this course will contain white organdie and stranded cotton. The cost will be announced nearer the class start.

A photograph of a worked sample will appear later, but here is the original draft design which gives an idea of subject and colours.
The cost of the kit will be £20.00.
---