2016 Classes
March 19 - Decorated Tassel with Hazel Arnott

Apart from being a decorative item in its own right, a tassel is a handy way to use up yarns and embellishments that languish in your stash. This class will cover identifying all the parts that form a tassel and making the skirt, ruff and cord. Cord construction will be covered in the class, but pre-made cords will be available. The base tassel will be decorated with a beaded flower and ribbons. To give you an idea of the scale of the work the tassel is approximately 23cm in length (excluding the hanging cord). The base will be in neutral shades with the bead decoration and dyed silk ribbons coming in different colour combinations.
The price of the kit is £27, and includes everything you need to make the tassel in the image. Although if you just choose the plain tassel with no decoration, there is a reduced price of £20.
---
April 16 – Jacobean Pomegranate with Jacqui McDonald
The pomegranate was a popular motif in Jacobean times. It symbolised both fertility and immortality, and also had religious connations with the numerous seeds within the fruit indicating the faithful united in the Church.
This crewelwork class will produce this elegant picture of the fruit, and includes Satin, Trellis, Burden, Stem and Couching techniques. All the stitches used will be taught in the class, and since the fruit is symmetrical, it will be easy to finish off at home.
The price of the kit will be £24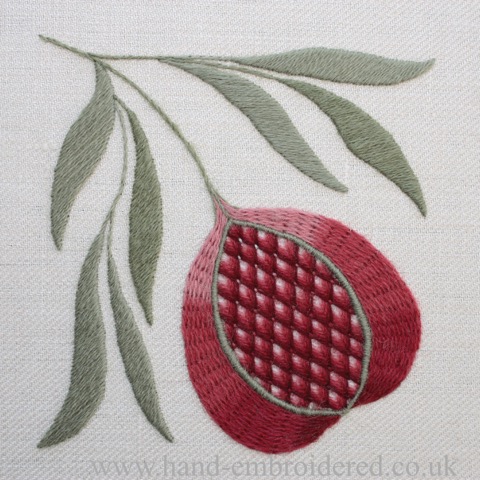 ---
May 21 - Monograms with Flo Collingwood

Embroidered monograms have been around for several centuries, and probably originated with the need to identify linens when they were sent out to be laundered instead of being washed at home. The many alphabets we see in samplers taught their letters to girls who would need to identify the linen particular to their houses. These letters could be quite utilitarian, but embroiderers began to embellish them, so more elaborate characters came into existence.
This class will teach several whitework techniques including Satin stitch, Ladder stitch, Beading, Trailing Eyelets & Surface stitching. The work will be quite fine using one strand of cotton in size 10 or 12 embroidery needles. But for those of us who are a little short-sighted there will be options of doing coloured thread monograms on white, or white monograms on patterned cloth. The various styles that are available are on this page.

The price of the kit will be £18
---
June 25 – Pulled Thread Work with Jen Goodwin

Pulled thread work is a form of whitework embroidery where the tension of the stitches is used to create spaces within the fabric and a lace effect is produced. This technique can often be seen in samplers or as an edging on table linen. We will be working on this stylised flower and leaf with different patterns giving different textures to each part of the design.
There are 3 different Pulled Patterns, and the other stitches are Raised Stem Band, Stem Stitch & French Knots. It is worked onto 28 tpi (threads per inch) linen. The kit will cost £15.00.
---
July 16 - Silk Shading and Goldwork with Lisa Bilby

This little silk shaded and goldwork songbird is suitable for those who have some previous embroidery experience (not necessarily in the two techniques being taught).
It combines directional long and short stitch with several different goldwork techniques and shows how well the two techniques compliment each other. The kit will cost £20.

---
CANCELLED
September 17 and October 15 - Metalwork and Stumpwork with Kate Cross

This class will be taught over two Saturdays at the end of the year. The Woodland Stumpwork class will teach you an array of techniques in the Art of Stumpwork. In the first lesson you will learn traditional metal thread techniques such as padding for relief, couching, working with pearl-purl and chipping. In the final lesson you will further these skills by learning stitches such as picots, padded satin, raised stem band, leaf stitch and creating slips that form the three dimensional leaves and berries.
(If you are an experienced stitcher and are interested in this course but could only attend for one of the Saturdays, then contact Embroidery Now to discuss this possiblitity)
The cost of the kit will be £40.
---
October 25 - Illumintated Letter with Liz Tapper

Here is an elegant golden letter, with dainty floral decoration which might make a handy present for Christmas.

The letter will be worked in stranded cotton and gold thread on a duchess satin background and will therefore cover the techniques of surface embroidery and goldwork. The kit will cost £25.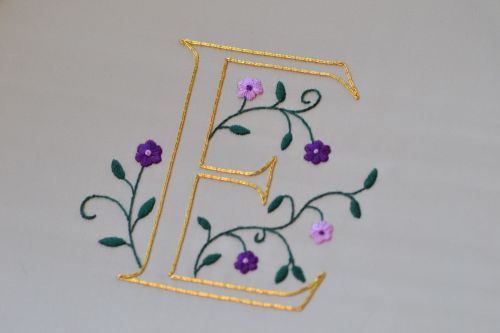 ---
Save
Save