2017 Classes
March 18th - Sutton Hoo Roundel with Dr. Alex Lester-Makin

Sutton Hoo is the site of several Anglo-Saxon burials, the most impressive of which was an undisturbed ship burial which was excavated in 1939 and uncovered a treasure of early artefacts. The rich decoration that was revealed used precious stones, enamel and gold to create striking designs.
This brightly-coloured embroidery uses laidwork, surface embroidery and couched goldwork to recreate the style of decoration seen in the ship burial.

Cost of the kit will be £20.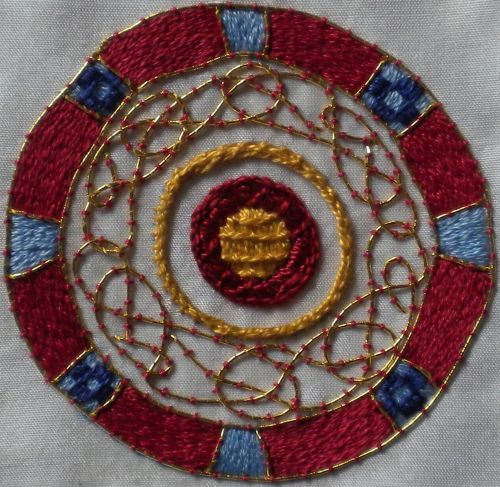 Go to SHOP
---
April 22nd– Silk Ribbon Embroidery with Lorna Bateman

(Due to the popularity of this class, it will also run on 7th October )
Learn the basics of silk ribbon embroidery techniques and either work on creating your own charming garden or embroider a design which is already printed onto the fabric. You will learn how to create a variety of flowers to incorporate into your garden, and for those who have done some ribbon embroidery, they can include a few more advanced flowers in their design.
The piece can be completed as a picture for framing or as a pot pourri bag. Alternative similar designs using the same stitches will be an option.

Cost of the kit will be £29.
---
May 20th - An Introduction to Hedebo with Jen Goodwin

Hedebo is a style of cutwork with a specific stitch to secure the edges and create the loops. It is a variey of whitework which originated in Denmark.
The picture below is not the design that will be stitched, but is an old illustration to give you an idea of the type of stitching involved. (An image of the actual class design will appear before the class.)

Cost of the kit will be £20.
---
June 17th – Exploring a Stitch with Helen Jones

In this one day course we will concentrate on one stitch and the "family" of stitches that can be derived from it. Starting with a chain stitch, the first part of the day will be about guided experimentation with different threads, different scales, a range of colours and various ways in which a stitch can be embellished or developed. Using calico students will create a personal sampler for future reference.

In the second part of the day we will consider how the ideas generated can be used to create a simple design which can then be stitched on linen. By the end of the day students will have sufficient skill and experience to finish their project at home. No previous experience is necessary. The basic stitch, and any derivatives, will be taught during the course. This day will appeal to stitchers who would like to answer the question "What if ….. ?"
Cost of the kit will be £15.
---
July 15th - Silk Shading Fox with Helen Richman

(Due to the popularity of this class, it will also run on July 29th)
This one day class will introduce students to the beautiful embroidery technique of silk shading and will focus on creating the texture of fur as well as subtle blending of colour.

The students will learn how to create and use split stitch and long and short stitch in stranded cotton threads to create a small fox design on a background of dark blue cotton fabric. The students will
also learn the theory behind what order to work the sections of the design in, what order to work the split stitch in and where it should be used for each area as you build up the design.
Cost of the kit will be £22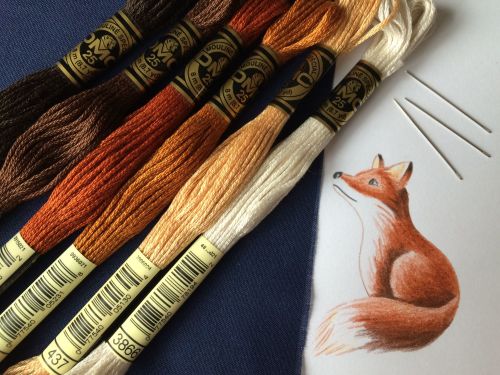 ---
September 16th - Pick n Mix Sweets with Kate Barlow

Traditional techniques used in a contemporary way. This is a modern take on stumpwork with the same focus on creating raised and 3-D objects. Techniques will include wrapped beads, cord making, canvas work, and beadwork. This bright colourful course should be a lot of fun, and less fattening than the inspiration!

Cost of the kit will be £30 (was £25, but material prices have increased.)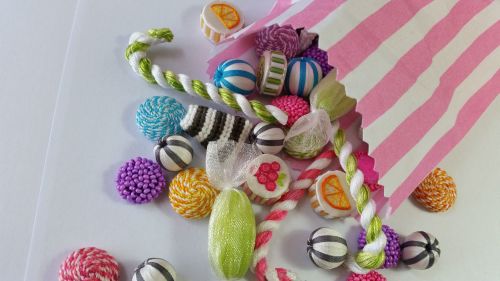 ---
October 21st - Beginner's Goldwork with Liz Tapper

Goldwork has been used extensively over the centuries on ecclesiastical vestments, as well as on military uniforms, flags and banners. During the late 12th and mid 14th centuries the artisans of England produced particularly excellent embroidered work using silk and gold threads. This period was known as Opus Anglicanum and was celebrated in the recent V&A exhibition.

This Beginner's Goldwork class will teach you how to apply padding using felt, when to wax your thread, how to use and couch different types of gold metal thread and how to use cut work in the form of chips.


Cost of the Swirls kit will be £27 and the Rose kit is £30. You may choose either for the class.