2018 Classes
March 16th and 17th - Bayeux Tapestry with Dr. Alex Lester-Makin

This will be a 2 day course over a Friday and Saturday. The design is based on three elements found throughout the Bayeux Tapestry: human and horse, vegetation, and border animal. The embroidery is worked on linen fabric with crewel wool threads, the closest approximation to the original materials.
The design will incorporate stitches used on the hanging including laid-work for larger areas of filling, multiple rows of chain or stem stitch for smaller areas, and single lines of chain or stem stitch for definition lines and outlines. All areas, including the outlines, will be stitched in a combination of colours seen on the original, as depicted in the drawing. The piece can be worked in a 10" ring frame.
Cost of the kit will be £44.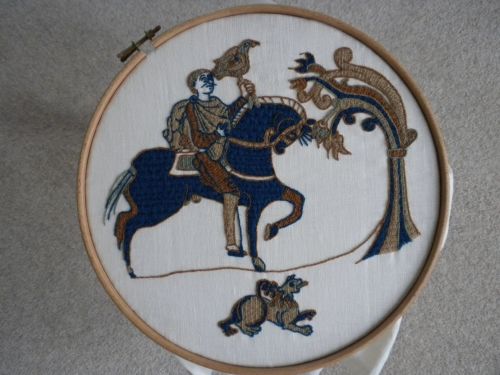 Go to SHOP
---
April 21st– Mountmellick Heart with Nicola Jarvis

This form of whitework embroidery comes from the village of Mountmellick in Leinster, Ireland. It was developed in the early 19th century as a way for local women to generate some income, and used threads and fabric that were commonly available.
"Sweet Molly's Heart" is a modern Mountmellick white work project. An ornate heart motif is worked in a range of stitches typically found in this embroidery technique, using DMC threads and crystal beads on a linen ground fabric.

Cost of the kit will be £25.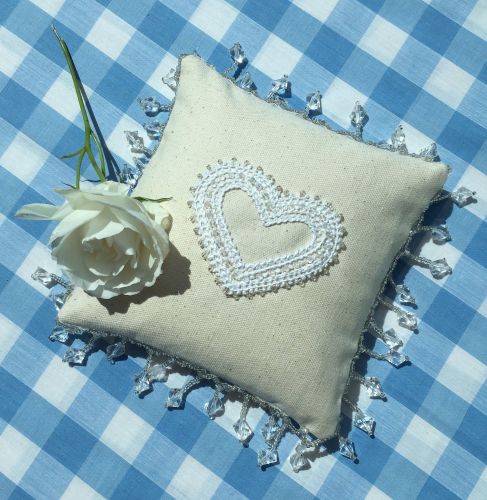 ---
May 19th - Tea Time Appliqué with Amy Burt

Cancelled due to low numbers
Amy is a new tutor for us, who like Kate Barlow, has come through the RSN Future Tutors course. I have chosen the following design from her since we have not had an appliqué classes for some time.

She has produced a cheerful tea time scene using lovely bright cottons. The class will contain the following techniques: padding (felt & Vilene), couched edge, pearl purl edge, embroidered edges (stem stitch, button hole & Long/short), turned edges
Her plan is for the class to focus mainly on the edges of the materials. She would also like to to teach how to make a cord with a pencil.

Cost of the kit is £20.
---
June 16th – Smocked Book Cover with Christine Clark

I have asked Christine from The House of Smocking to come and do a class for us this year. Although she is not an RSN tutor she is very experienced in the area of traditional smocking and passing on her skills.
For this class she has designed a delightful book cover with a smocked spine. There are seven styles of smocking stitch on the spine. In the picture, the cover is on an A5 folder which will contain the instructions on the stitches and how to finish off the project with the material provided.
Cost of the kit will be £15.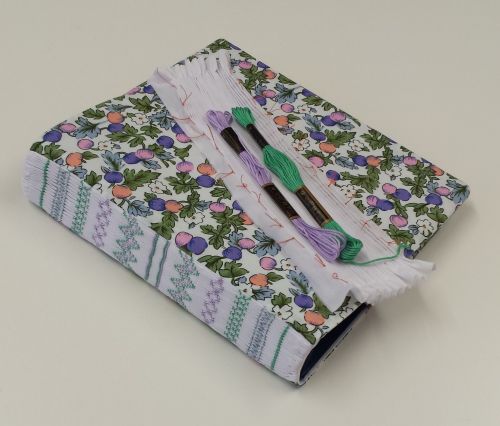 ---
July 21st - Dianthus Embroidery with Liz Tapper

This pretty beginners' design features an elegant dianthus flower. Suitable for anyone who has not stitched for many years or who would like to start, this kit will introduce you to a range of hand embroidery stitches, such as chain stitch, stem stitch, feather stitch, satin stitch, French knots and more. This is an excellent introduction to enable you to go on to try many other hand embroidery techniques. More experienced stitchers may enjoy working with traditional stitches on a piece that will be quickly finished.

Cost of the kit will be £15.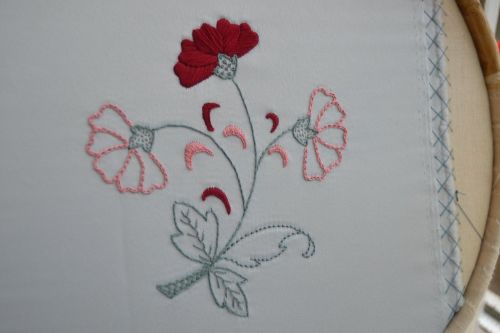 ---
September 22nd - Blue Jay Feather with Helen Richman

This Jay feather design combines decorative embroidery stitches in tones of blue, grey and black with goldwork embroidery techniques using gilt and peacock hues on a background of ivory synthetic silk.
The stitches used to create the design include: split stitch, long and short stitch, applying felt padding, using gilt metal threads such as Pearl Purl and Japanese thread, applying beads and using coloured metal thread.
Cost of the kit will be £25.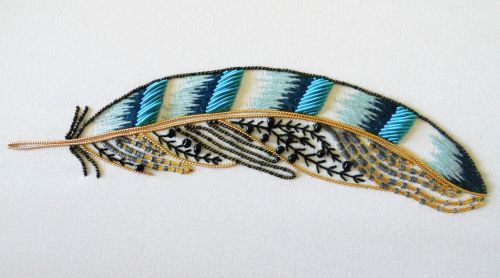 ---
October 20th - Christmas Stumpwork with Lizzy Pye

The term 'stumpwork' refers to three-dimensional or raised embroidery. This class will offer an option of two stumpwork pieces, either of which would make a unique Christmas decoration. It is ideal for beginners, giving you an introduction to one of the most important stumpwork elements - wired 3D shapes. It also provides an introduction to couched gold threads. As well as being an excellent introduction, it also offers a pleasing design for the more experienced stitcher.


Cost of the kit will be £20. You may choose either for the class.