2021 Classes
February 6th and 13th - 17th Century Stitches with Kate Barlow
(ONLINE TIMES AND DATES: Saturday 6th February 10:00 - 12:30 and Saturday 13th February 14:00 - 16:30)
This design gives you the chance to explore some 17th Century stitches and takes its inspiration from an original piece held in the Royal School of Needlework Collection. It uses four stitches seen in the original 17th Century embroidery – looped silk wrapped purl, corded buttonhole needlelace, over twisted mosse stitch and cut silk pile.The design is worked on a silk duchess satin using silk threads and gilt smooth passing. Your kit includes everything you need including a comprehensive instruction booklet.
Cost of the kit will be £45 plus £3.88 1st Class P&P.

---
March 19th, 20th and 30th - Shadow Work with Jenny Adin-Christie

(ONLINE TIMES AND DATES: 14:00 start for 3 hour session on Friday 19th March, Saturday 20th March and Tuesday 30th March)
This class is not suitable for beginners. Because Jenny's classes tend to be over-subscribed I will make a list of all interested students, and then pick 10 (possibly 12) on Sunday February 21st. So there is no entry in the shop, instead contact me to be put on the list. The class fee will be £90.

In the workshop we will explore the delicate art of shadow work embroidery. The principal stitch of this technique is Double Back Stitch (also known as Closed Herringbone). The stitch is worked on a translucent ground fabric (here this is Organdie), from the front. It forms a back stitch outline on the front of the work whilst creating a herringbone pattern on the reverse. This shows through the fabric creating a sense of solidity and pattern within design areas.
In this project, we will add a variety of other techniques to add further interest: the applique of a ribbon using pin and feather stitches, the applique of vintage thread labels and stamps, adding eyelets and surface stitches, working pulled ladder stitch, and adding feathers, sequins and buttons!
The design also includes a section of drawn thread work. This technique is not for the faint hearted on this very fine fabric and takes a long time!! Those of you who wish to tackle it are very welcome to but you may wish to replace this with further shadow work instead.
This design is intended to be made up into a scented sachet with lavender filling but could also be framed if you prefer.
Cost of the kit will be £45 plus £6 P&P.

Clicking on the picture will show a larger image and a link to more detail on the class and equipment required.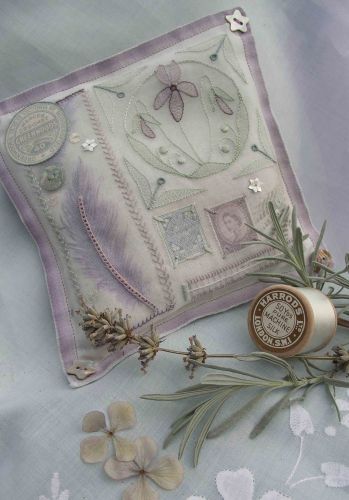 ---
April 17th – Blackwork with Chrissie Juno Mann

(ONLINE TIMES AND DATES: Saturday 17th April 14:30 - 17:00 and Saturday 24th April 14:30 - 17:00)
This traditional motif uses back-stitch and various blackwork patterns to create a cheery butterfly and flower as a herald of spring. It incorporates a touch of goldwork to highlight the flower centre and butterfly antennae.
Stitched in stranded cotton on linen. Suitable for a beginner in blackwork.

Cost of the kit will be £38 and £5 P&P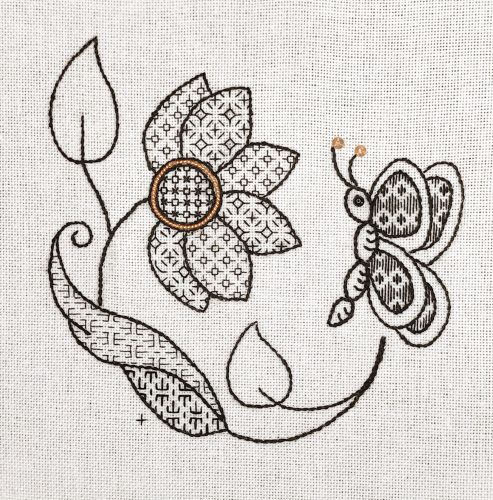 ---
May 15th - Needle Minders with Lorna Bateman
(ONLINE TIMES AND DATES: Saturday 15th May 10:00 - 12:30 and Saturday 22nd May 10:00 - 12:30)
Try your hand at raised and textured embroidery by creating any of these charming needle minders as an introduction to textured and surface embroidery. The needle minder is used to store your needles by keeping them handy as you work on a project.
This range of Floral Needle Minder kits contain 1 x 38mm button for covering, a magnetised back to the button, STOF lightweight linen/cotton blend fabric with muslin backing, DMC threads, needles and instructions with colour photographs. These needle minder/nanny projects are worked in a 4″ (12cm) hoop.
Please click on image below to see the four design options.
Cost of the kit is £16.95 plus P&P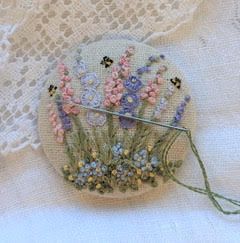 ---
June 19th – Canvas work with Sonja Galsworthy

(ONLINE TIMES AND DATES: Saturday 19th June time 10:00 - 12:30 and Sunday 27th June time 14:30 - 17:00 )
Did you know there is more to Canvaswork than Tent stitch? Join us for a beginners guide to 7 of the many varied stitches you can use on this contemporary sampler based on Mondrian's geometric artwork.
Cost of the kit will be £30 which includes P&P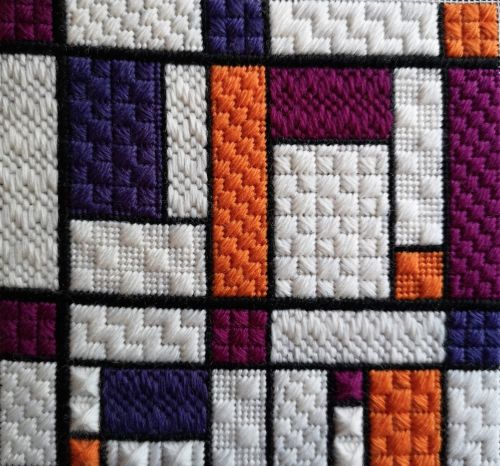 ---
July 17th - Pulled Thread Work with Becky Quine
(If this course has to run online, it will run in 2 sessions on Saturday 17th and 24th July from 10:00 - 12:30)
This introductory course will carefully guide you through the various processes to give you confidence when working this technique. This counted technique is worked on an open weave linen and with cotton
threads. The stitching thread is used to draw the fibres of the fabric together to create a lace like effect.
In this one day class you will learn how to prepare areas of the fabric to be worked, along with a variety of Pulled thread patterns and surface stitches.
Cost of the kit will be £26 (Plus P&P if online)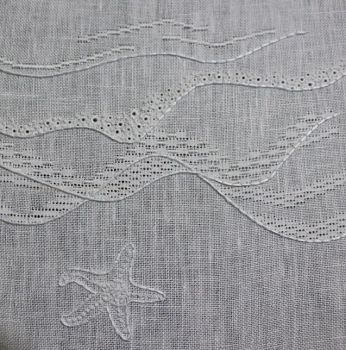 ---
Saturday September 18th - Jacobean Inspired Leaf with Anita Harrison

(If this course has to run online, it will run in 2 sessions on Saturday 18th and 25th September from 10:00 - 12:30)
This Introduction to Crewelwork 'Jacobean Inspired Leaf' has been designed for the embroiderer who wants to stitch a classic style piece using traditional materials, but isn't quite ready to undertake the much larger project of a Jacobean Tree of Life.
The creation of this leaf began with a mono-coloured leaf pattern the Tutor found on a cushion cover at her mother's house. The inspiration for this glorious mix of Autumnal colours popping against the dark grey originated from seeing the autumnal trees against a stormy sky on of her walks around the New Forest
Using traditional Jacobean materials, this motif is worked on cotton twill fabric using Appleton's Crewel 2ply wool on an 8in embroidery hoop. This design offers the embroiderer the opportunity to perfect their skills stitching the basic Crewel Embroidery stitches of Stem Stitch, Chain Stitch, Fly Stitch and Seed Stitch , as well as learning variations of these stitches such as Detached Chain Stitch, Closed Fly Stitch, multi coloured Seed Stitch, Whipped Stem Stitch and Whipped Fly Stitch.
Cost of the kit will be £22 and P&P if online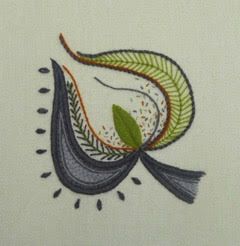 ---
October 16th - Silk Shading and Goldwork with Kate Cross
Introducing Little Miss. Sparrow in all her splendour! In this five-hour class you will be taught the art of silkshading and goldwork techniques. Kate will show you how to blend and mix shades of stranded cottons to achieve smooth shading as if you were painting with a needle. As part of the design you will also complete lustrous goldwork techniques including couching metal threads, pearl-purl and chipping.
Cost of the kit will be £30.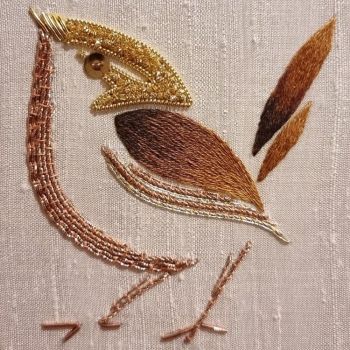 Go to SHOP
---
November - Needlelace Samples with Amy Burt

(ONLINE AFTERNOON CLASS: Wednesday, 17th and 24th November 14:30 - 16:30)
This class will be a chance to work through samples of Needlelace stitches, so you have a reference for the future. Amy will send through diagrams of the stitches by email before the first session.

There will be no kit, but you will need to provide your own materials which will be:
- a plain square of calico or plain cotton (no stretch or patterns)
- Size 20 - 22 tapestry needles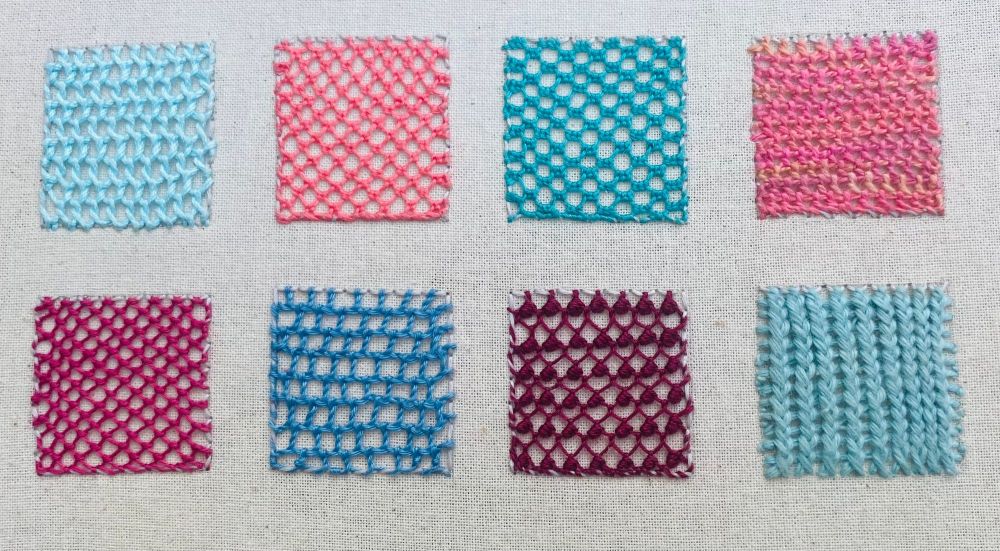 ---