2021 Classes copy
February 6th and 13th - 17th Century Stitches with Kate Barlow
(ONLINE TIMES AND DATES: Saturday 6th February 10:00 - 12:30 and Satruday 13th February 14:00 - 16:30)
This design gives you the chance to explore some 17th Century stitches and takes its inspiration from an original piece held in the Royal School of Needlework Collection. It uses four stitches seen in the original 17th Century embroidery – looped silk wrapped purl, corded buttonhole needlelace, over twisted mosse stitch and cut silk pile.The design is worked on a silk duchess satin using silk threads and gilt smooth passing. Your kit includes everything you need including a comprehensive instruction booklet.
Cost of the kit will be £45 plus £3.88 1st Class P&P.

---
March 19th and 20th - Shadow Work with Jenny Adin-Christie

Currently working out if this can be taught online.
Cost of the kit will be £

ALTERNATIVE CLASS ONLY IF FIRST OPTION NOT POSSIBLE
KATE CROSS - Silver Snowdrop
(ONLINE TIMES AND DATES: 9:30 start of 3 hour session on Saturday 20th March, Saturday 10th April and Thursday 15th April)
Learn the art of metal thread embroidery in this exquisite silver snowdrop design with a pure silk dupion background. You will explore many essential techniques within this design.
In the first class you will learn how to pad metalwork embroidery with two types of padding; felt padding and string padding. In the two subsequent classes you will explore the following techniques; pearl- purl, couching, cutwork, s'ing and basketweave. This class has been designed as three bitesize sessions so that you will learn at an appropriate pace to the design.
The class fee will be £90. Cost of the kit will be £45 and £8 for Tracked P&P.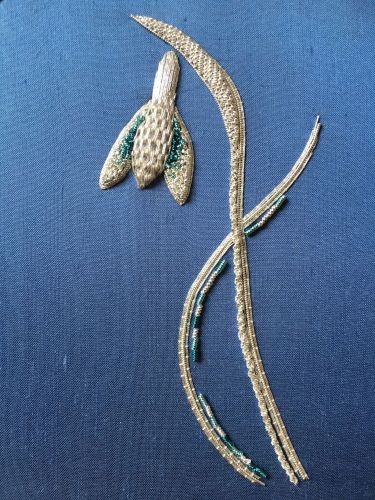 ---
April 17th – with Chrissie Juno Mann


Cost of the kit will be £.

---
May 15th - with Nicola Jarvis

Cost of the kit is £

---
June 19th – Canvas work with Sonja Galsworthy

Cost of the kit will be £

---
July 17th -

Cost of the kit will be £

---
Saturday September 18th - Jacobean Inspired Leaf with Anita Harrison

(If this course has to run online, it will run in 2 sessions on Saturday 18th and 25th September from 10:00 - 12:30)
This Introduction to Crewelwork 'Jacobean Inspired Leaf' has been designed for the embroiderer who wants to stitch a classic style piece using traditional materials, but isn't quite ready to undertake the much larger project of a Jacobean Tree of Life.
The creation of this leaf began with a mono-coloured leaf pattern the Tutor found on a cushion cover at her mother's house. The inspiration for this glorious mix of Autumnal colours popping against the dark grey originated from seeing the autumnal trees against a stormy sky on of her walks around the New Forest
Using traditional Jacobean materials, this motif is worked on cotton twill fabric using Appleton's Crewel 2ply wool on an 8in embroidery hoop. This design offers the embroiderer the opportunity to perfect their skills stitching the basic Crewel Embroidery stitches of Stem Stitch, Chain Stitch, Fly Stitch and Seed Stitch , as well as learning variations of these stitches such as Detached Chain Stitch, Closed Fly Stitch, multi coloured Seed Stitch, Whipped Stem Stitch and Whipped Fly Stitch.
Cost of the kit will be £22 and P&P if online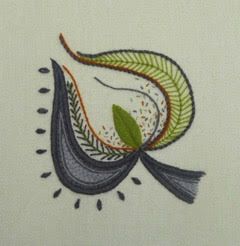 ---
October 16th - Silk Shading and Goldwork with Kate Cross

Cost of the kit will be £.

Go to SHOP
---